ARE YOU READY TO DOMINATE?
Do you want to get better in gaming on your smartphone? Ranking first in every game? Then this is for you! Step up your game and show them who is the boss!
Thanks to the Nintendo Switch design it really gives you the ideal gaming experience. Click your smartphone in the gamepad and beat your opponents! 
*This product is NOT SOLD in stores.
Get better at online gaming on your smartphone
Compatible with iOS and Android
Suits any phone size due to the telescopic design 
1.5hrs of charging = 12 hours of gaming
Charge while playing
Metal plating cools down phone effectively
The perfect way to play mobile games in 2020: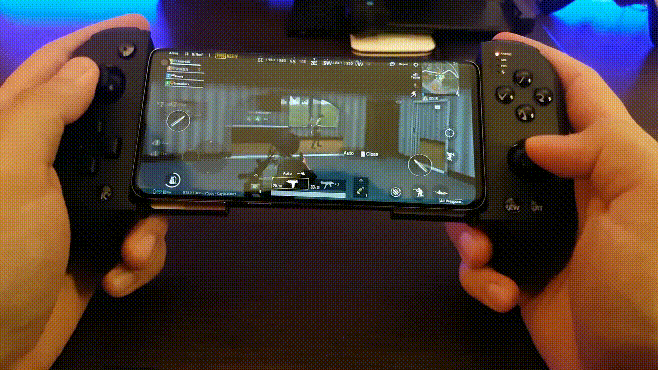 2020 LATEST PHONE CONTROLLER - Playing PUBG mobile game with 6 fingers, allows to aim, shoot, move at the same time, this game controller noticeably improves mobile gaming!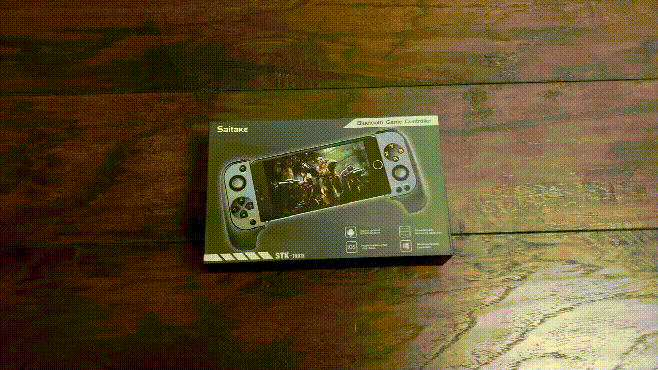 ONLY FOR ANDROID & IOS PHONE - Designed for most FPS games such as Call of Duty, Arena of Valor, Mobile Legend and etc. Works with Bluetooth.
Connect to Bluetooth to turn your phone into a Nintendo Switch gaming machine!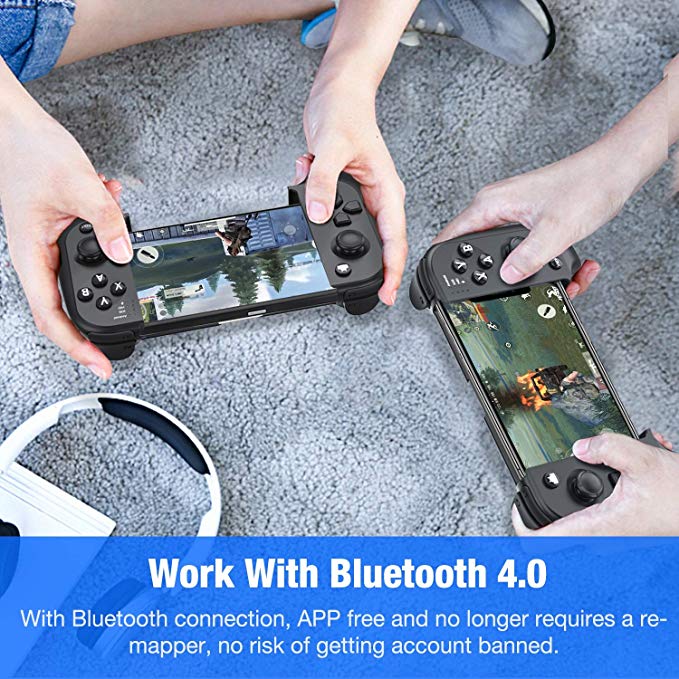 TELESCOPIC MOBILE GAMING CONTROLLER - Suitable for most models of 4.5"-6.7" length cellphone, such as iPhone/ Samsung/ HUAWEI/ Sony/ HTC. The controller comes with a non-slip and comfortable grip to relax your hand fatigue for the long gaming and a metal sheet to cool your phone.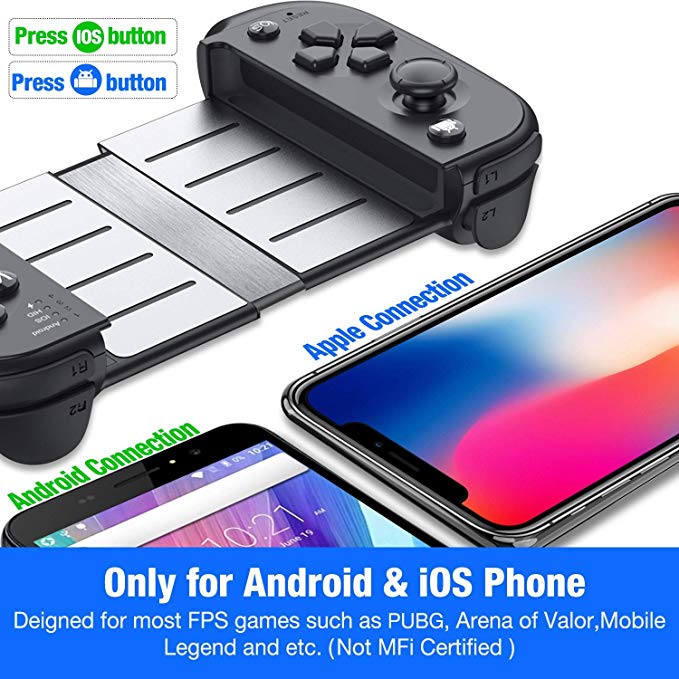 HIGH SENSITIVE & MORE ACCURATE - 360° joystick and fast-action triggers provide you the ultimate game experience. Built-in battery provides long gameplay time, 1.5 hours charging for 12 hours playing.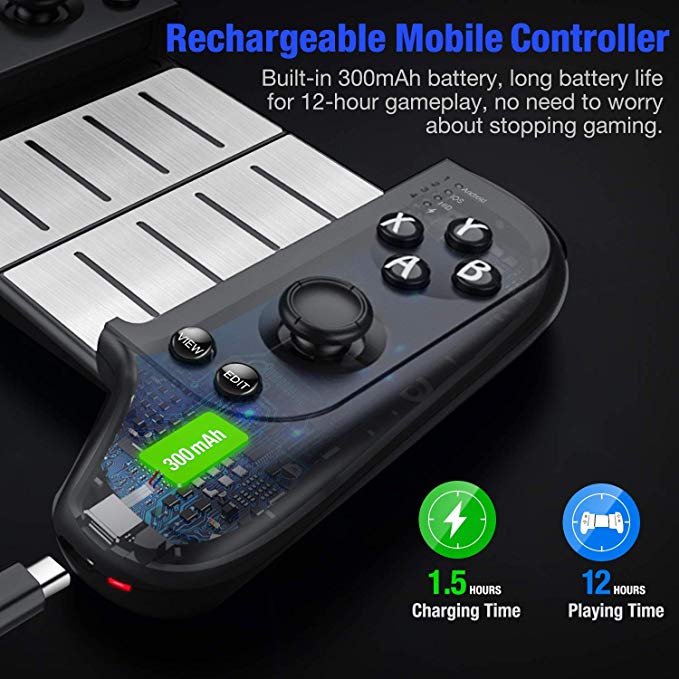 Small Dimension: Telescopic mobile gamepad, you can slip this controller easily into your pocket, take it outdoor and enjoy your mobile video game during your trip!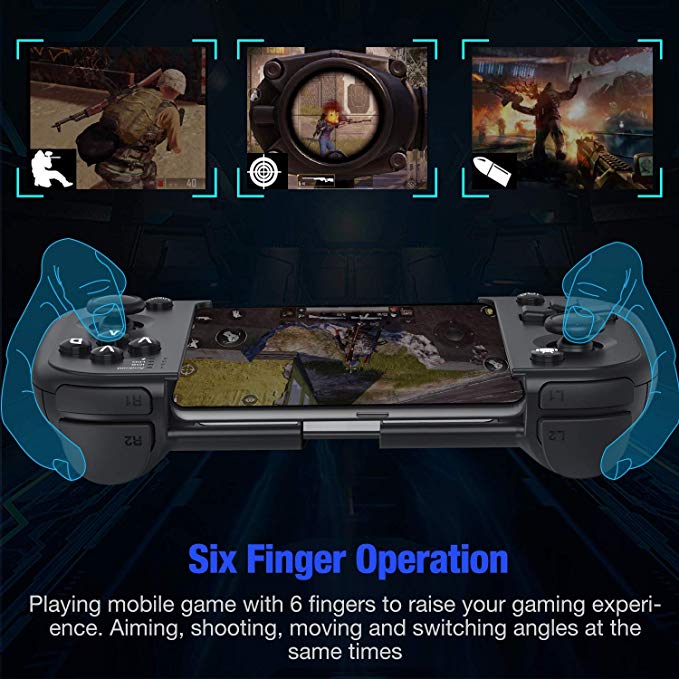 Features:
1. Unique Structure:
The structure has 3 sections and its max reach is 16cm;
Good dimensions to clip every smartphone tightly and secure;


2. Unique treatment process:
Stainless steel sheet to cool your phone effectively so you can keep gaming;
3. Mini Joystick design:
Mini Joystick (similar joystick as Nintendo Switch) design, use up to 1,000,000 times;
Left-right asymmetry joystick design, gives a unique feeling of gaming;
4. Trigger button design:
Latest trigger button design for the best feel while playing;
The touch switch button instead of conducting the resin button enhances the stroke for faster action.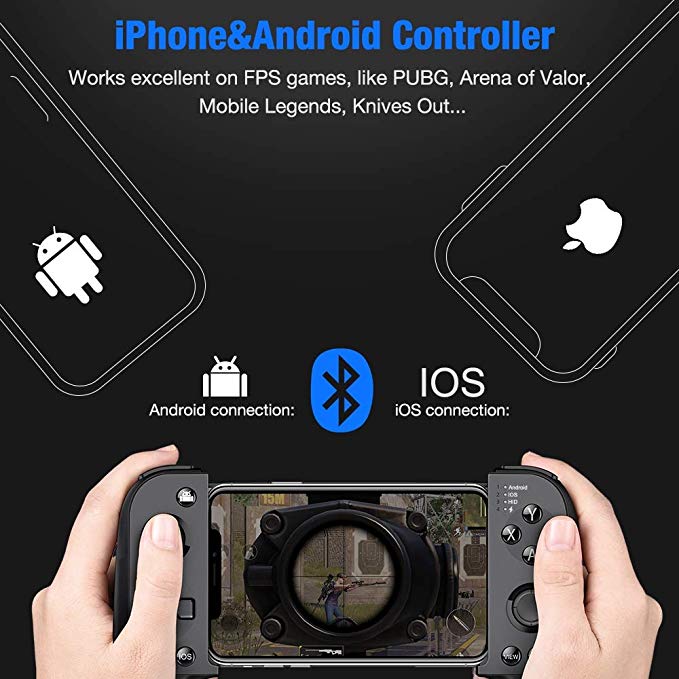 Package Include:
- Gamepad
- User manual
- Charge cable
ARE YOU READY TO DOMINATE?
Customer Questions & Answers
Does it charge my phone with a case around it?
Yes! Our charger works flawlessly with cases up to 5 mm.
Does it really charge all 3 devices at the same time?
Yes! Depending on your power source (it has to be a wallplug, not a laptop/power bank) , it does charge all three devices at the same time.
My charger doesn't work, what now?
No worries! Just send us an email at support@thejustincaseshop.com and we will take care of it.

I see LED's how bright are they?
There are 3 LED's that will indicate the 3 different charging spots. Brightness can be compared to the charging lights of a power bank or other electrical devices. 
Is this Qi-certified?
Yes, it is.
Why is there no  USB wall plug included?
Everyone with a phone already has a wall plug, so we decided not to charge you extra for another one. 
What format is the included charging cable?
USB-A → USB-C, USB-C goes into the charger.
Is this ready to use or do I need to buy something extra for it?
Our multifunctional wireless charger is ready to use as it is! To enjoy full power speed charging it needs to be used with an 18w adapter (not included in the package). 
I don't like to take my phone out of its protective case. Is the charger able to perform through my normal case, or does it have a case for station?
Our charger is compatible with cases up to 5mm. Metal cases are not recommended as they reflect too much energy back to the charger.
Do you attach your own watch charger disk or is the watch charger built-in?
The watch charger is built-in
How do I know if my AirPods have wireless charging?
If you own an AirPods wireless charging case or the AirPods Pro, it's pretty easy to tell which version you have. Compared to the original case, there is now a small LED on the front of the case that will blink when charging.
Why is this the best wireless charger compared to others?
For other wireless chargers on the market, they have simple functions and can only provide wireless charging for mobile phones. Our new wireless charger, not only has a unique appearance but also have a smoother stable charging. No need to worry about poor charging contact and unstable charging. And, this is a 3-in-1 wireless charger that passed though the qi certification and can wirelessly charge 3 devices. Although pictures of other chargers show earbuds and watches with the wireless charger in their products. In fact, their chargers only wirelessly charge mobile phones. Watches and earphones still need to be plugged and wired. But for us, you can use this wireless charger to charge mobile phones, watches, and headphones at the same time. That is the reason why our wireless charger comes out best time and time again.

Shipping Time: Depending on the product and location, anywhere from 5 - 21 days.
Once your order is made and your payment has been received, your order is shipped within 1-2 days. As soon as your package has been shipped you will receive a tracking number so you can stay up to date about the delivery time of your order.
Cost of shipping:
Free!
Our handling time to process your order:
Maximum 72 hours
Lost or missing item
If your item hasn't arrived, please track your item with the provided tracking code. Inform us of your situation and we will do everything in our power to find your item and return it to the rightful owner.
Track my order
As soon as your order has been shipped you can start tracking your order. We will provide you with the tracking code by email. Order can be tracked by filling in your tracking code here.

| | |
| --- | --- |
| Material: | Rubber Coated TPUc |
| Input Power: | 18W (9V/2A) |
| Output Power Apple watch: | 3W |
| Output Power Airpods: | 5W |
| Output Power iPhone: | 5W / 7.5W / 10W |
| Connector Type: | USB Type C |
| Size(cm): | 11.3(L) x 7.2(W) x 13.2(H) |
| Product Weight(g): | 220 |
| Quality Certification: | RoHS, CE and FCC |