BUY 2 AND GET 
+

FREE SHIPPING

 
+ A FREE MAKEUP BAG (last picture)



ONLY

 FOR 24H!
----------
Are eyebrow pencils not really giving you the results that you are looking for?
Our Eyebrow Pen PRO is your best choice to be charming.
The Eyebrow Pen PRO is your new must-have, which was developed to help you create flawless and natural-looking eyebrows.
Our specially designed four tip pen creates strokes that naturally come together to form a beautiful eyebrow that perfectly frames your face for any makeup look.
Your eyebrows will look fuller, more polished and defined.
It's so easy to apply, making it perfect for beginners and professionals alike. The Eyebrow Pen PRO evenly glides providing beautiful color that lasts all day. 
❤ No smudging.
❤ No Fading.
❤ Easy to apply.
❤ Easy to remove.
❤ Waterproof.
❤ Long lasting.
❤ Natural Looking.
How to Use:
Apply starting at the arch of the brow going towards the tail.

Continue to apply from the front of the brow towards the arch using short upward strokes, filling in sparse areas.

SO EASY AND FAST!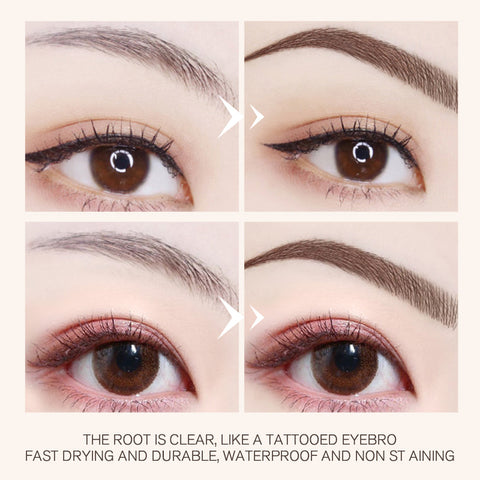 Tips:
Make sure that your face is dry when applying the Eyebrow Pen PRO.

Do not apply cream or oily products on the face before using the Eyebrow Pen PRO.
Pencil stripes can easily be removed with makeup remover.
Specifications:
Brown / Dark Brown / Black / Grey / Light Grey / Red Brown.
Including:
OUR GUARANTEE:
Buy 2 and get Free Worldwide Shipping + Free makeup bag (see last picture)

Return guarantee (14 Days Return guarantee)
24/7 Dedicated Customer Service
SHIPPING INFORMATION
: We have a high demand for our
Eyebrows Pen PRO
, which is why our shipping time ranges between 2-5 weeks (depending on location).
We are constantly running out of stock so... Order now and do not miss out on your
Eyebrow Pen PRO
!
Customer Questions & Answers
Does it charge my phone with a case around it?
Yes! Our charger works flawlessly with cases up to 5 mm.
Does it really charge all 3 devices at the same time?
Yes! Depending on your power source (it has to be a wallplug, not a laptop/power bank) , it does charge all three devices at the same time.
My charger doesn't work, what now?
No worries! Just send us an email at support@thejustincaseshop.com and we will take care of it.

I see LED's how bright are they?
There are 3 LED's that will indicate the 3 different charging spots. Brightness can be compared to the charging lights of a power bank or other electrical devices. 
Is this Qi-certified?
Yes, it is.
Why is there no  USB wall plug included?
Everyone with a phone already has a wall plug, so we decided not to charge you extra for another one. 
What format is the included charging cable?
USB-A → USB-C, USB-C goes into the charger.
Is this ready to use or do I need to buy something extra for it?
Our multifunctional wireless charger is ready to use as it is! To enjoy full power speed charging it needs to be used with an 18w adapter (not included in the package). 
I don't like to take my phone out of its protective case. Is the charger able to perform through my normal case, or does it have a case for station?
Our charger is compatible with cases up to 5mm. Metal cases are not recommended as they reflect too much energy back to the charger.
Do you attach your own watch charger disk or is the watch charger built-in?
The watch charger is built-in
How do I know if my AirPods have wireless charging?
If you own an AirPods wireless charging case or the AirPods Pro, it's pretty easy to tell which version you have. Compared to the original case, there is now a small LED on the front of the case that will blink when charging.
Why is this the best wireless charger compared to others?
For other wireless chargers on the market, they have simple functions and can only provide wireless charging for mobile phones. Our new wireless charger, not only has a unique appearance but also have a smoother stable charging. No need to worry about poor charging contact and unstable charging. And, this is a 3-in-1 wireless charger that passed though the qi certification and can wirelessly charge 3 devices. Although pictures of other chargers show earbuds and watches with the wireless charger in their products. In fact, their chargers only wirelessly charge mobile phones. Watches and earphones still need to be plugged and wired. But for us, you can use this wireless charger to charge mobile phones, watches, and headphones at the same time. That is the reason why our wireless charger comes out best time and time again.

Shipping Time: Depending on the product and location, anywhere from 5 - 21 days.
Once your order is made and your payment has been received, your order is shipped within 1-2 days. As soon as your package has been shipped you will receive a tracking number so you can stay up to date about the delivery time of your order.
Cost of shipping:
Free!
Our handling time to process your order:
Maximum 72 hours
Lost or missing item
If your item hasn't arrived, please track your item with the provided tracking code. Inform us of your situation and we will do everything in our power to find your item and return it to the rightful owner.
Track my order
As soon as your order has been shipped you can start tracking your order. We will provide you with the tracking code by email. Order can be tracked by filling in your tracking code here.

| | |
| --- | --- |
| Material: | Rubber Coated TPUc |
| Input Power: | 18W (9V/2A) |
| Output Power Apple watch: | 3W |
| Output Power Airpods: | 5W |
| Output Power iPhone: | 5W / 7.5W / 10W |
| Connector Type: | USB Type C |
| Size(cm): | 11.3(L) x 7.2(W) x 13.2(H) |
| Product Weight(g): | 220 |
| Quality Certification: | RoHS, CE and FCC |